For sure, you've heard of many blockchains out there. But the more of them appear on the market, the harder it is to distinguish whether they have some core value that will last.
Then, there's the blockchain called the Internet Computer.
Why ICP? What's so special about it?
The DFINITY Foundation figured that there's one thing that had been nonexistent, even in the growing crypto economy.
The borderless and infinite blockchain, just like the Internet itself.
So they created it.
If you know little to nothing about this blockchain and its token, don't worry. Continue reading and you'll know what it is and what makes it special.
A bit of history 
February 2018: DFINITY raised $61 million from Andreesen Horowitz and Polychain Capital as the foundation announced plans for the creation of a new blockchain, the Internet Computer. 

August 2018: DFINITY raised $102 million in the next funding round, bringing the project's total funding to $195 million.

May 7th 2021: With the Internet Computer Genesis Event, the mainnet was officially launched.

May 10th 2021: ICP/USD pair went live on the largest crypto exchanges.
What is the Internet Computer?
The Internet Computer is a blockchain created by a nonprofit organization called the DFINITY Foundation.
DFINITY describes the Internet Computer as "the world's first web-speed, internet-scale public blockchain".
Overall, the Internet Computer is something like a global decentralized computer with a public source code. Unlike many other blockchains, its core comprises thousands of independent, hardware data centers. Thanks to this, the Internet Computer blockchain enables software and services to run directly on the open internet.
ICP token
ICP is a native utility token for the Internet Computer blockchain.
The ICP token is designed to help operate a decentralized layer of web infrastructure built by the Internet Computer.
The value of the ICP token is determined by the open market. You can buy and trade them directly at CEX.IO. 
You can receive ICP tokens through the Internet Computer Association (ICA) or the DFINITY Foundation. Another way is to get ICP tokens as remuneration for providing computing capacity as a node provider or data center.
Developers can convert ICP tokens into cycles in order to pay for the computation and resource consumption on the Internet Computer.
Holders of ICP tokens can participate in governance by locking them up in 'neurons' in the Network Nervous System (NNS).
Why is the Internet Computer special?
The DFINITY Foundation aims for the Internet Computer to become a decentralized version of the internet.
The idea is that you can build and use dApps on this blockchain without experiencing the scalability issues that often occur in older-generation blockchains. If it was previously nearly impossible to build a social media platform on a blockchain, today the Internet Computer allows for creating such infinitely scalable platforms with no downtime.
To boot, all smart contracts and transactions run at web speed, which means you don't have to wait for block creation and transaction processing.
Developers might also consider looking into their extensive software frameworks. The products they build on top of that will be decentralized in nature because they won't rely on hosting providers and big tech companies to operate.
What you can make with the Internet Computer:
tokenized internet services

websites

dApps

decentralized financial systems

pan-industry platforms

traditional enterprise systems
Key features
The network is able to grow infinitely

Malicious or crashed nodes replace without stopping

Subnets revive even if too many nodes within have failed

Seamless upgrades, allowing ICP to fix bugs and add new features

Data is not stored on a single physical server

Network exchanges information without all the parties knowing its content

Encryption with forward secrecy and noninteractive zero-knowledge proofs. 
Main innovations
The Internet Computer is home to some groundbreaking innovations in cryptography. Some of their inventions are:
Threshold Relay

Probabilistic Slot Consensus

Chain Key Cryptography

Noninteractive Distributed Key Generation

The Network Nervous System (NNS)

Internet Identity
The Internet Computer's process of signing off signatures is managed as quickly as possible, enabling it to do thousands of requests per second. That's why dApps like online chats and social media are available on ICP.
Zero-knowledge-proof technology reduces the redundant operations that take too much computational power and time to proceed. It also makes the network more secure because all of the parties involved don't know the content of their sharing documents.
A good analogy for Canister smart contracts, which run on Internet Computer subnets, is document compression — you don't need to yet you can quickly exchange all the necessary data without needing to transfer bulky files. It conveys only the information that the other party needs to know (got password? – yes).
Instead of one subnet, as on other blockchains, the Internet Computer may have hundreds of thousands of them.
Moreover, the revolutionary concept is that any participant can access all these subnets with only one private key — it happens to be a secret key of one root subnet — there is one small section that lists all keys of all the ICP subnets.
Each smart contract contains only 32 bytes of data. Together with an intricate chain of signatures, this network becomes fast and infinitely scalable.
What's the ecosystem?
On the highest level, the Internet Computer is represented by dApps that are already working on its blockchain network. You can browse them here.
On the lowest level, the Internet Computer consists of hardware data centers. The software that runs on them is written in their proprietary coding language, Motoko.
Here is the simple scheme of their network: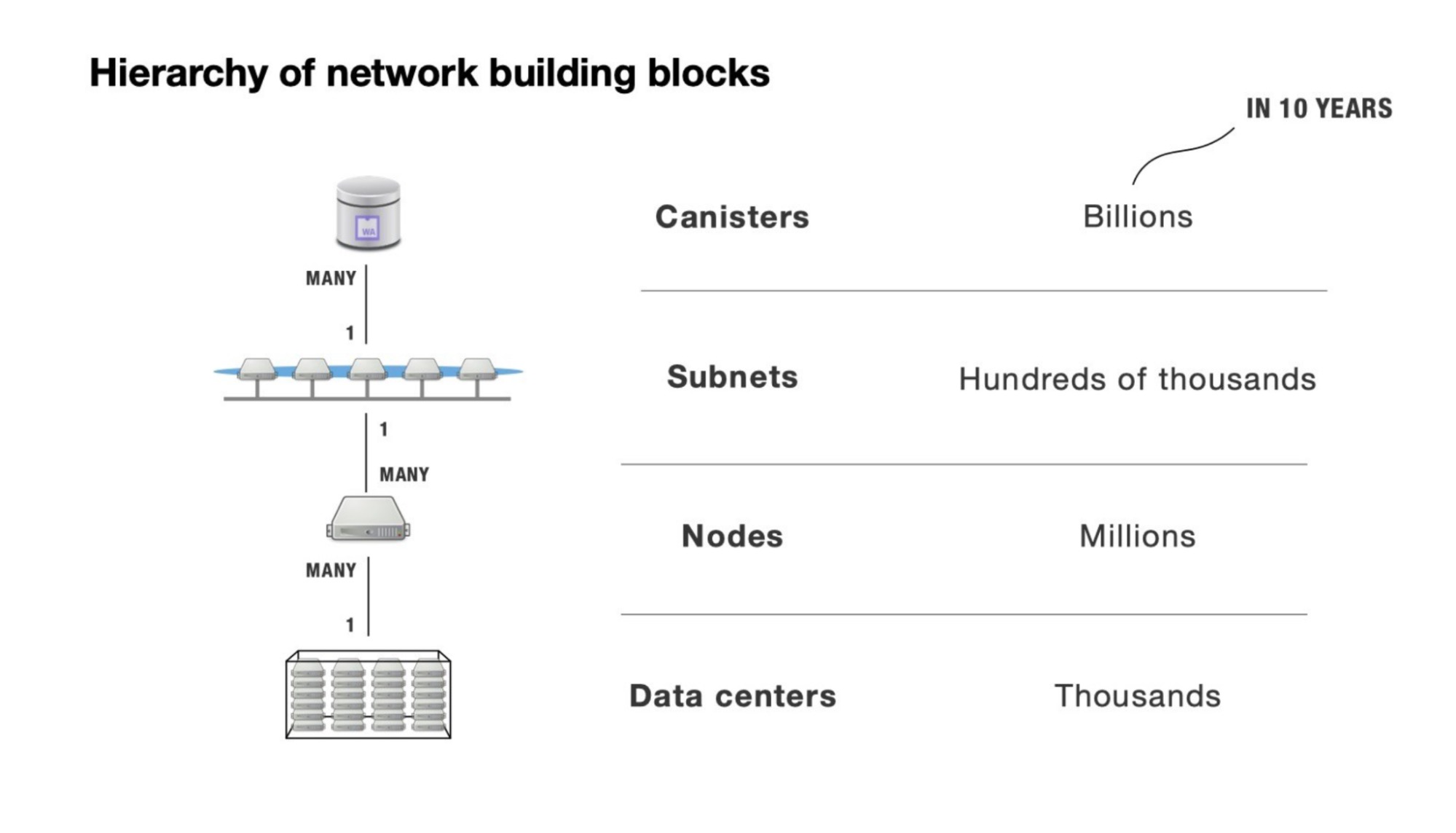 The smallest component but the largest in number, Canisters are smart contracts. Subnets and nodes are familiar elements that are also present in other blockchains.
Competitors
While major blockchains like Ethereum have earned their fair share of criticism for network clogs and sky-high fees, DFINITY says the Internet Computer will be much faster and less costly.
The newer blockchains like Free TON might also count as ICP's direct competitors. But the Free TON builders conducted a thought experiment on their Wiki pages where they disprove the possibility of creating Facebook on a blockchain. At the same time, the Internet Computer proves that it's possible to build social media networks on their blockchain.
In Polkadot blockchain, the whole network also relies on its core structure called relay chain. On top of that, they've built more types of structures than ICP. They have parachains (similar to subnets), parathreads that don't need continuous connectivity to the network, and bridges that connect multiple blockchains (even the older networks like Bitcoin). Polkadot also has more roles for the community: nominators, validators, collators, and fishermen. Yet, the governance depends on the council members and technical committee making it less decentralized since the smaller team governs major decisions.
In ICP, however, the broader community holds 60% power over the governing decisions.
Here's the ICP token allocation at the Genesis phase:
Early contributors: 9.50%

Seed donations: 24.72%

Strategic: 7.00%

Presale: 4.96%

Strategic partnerships: 3.79%

Community airdrop: 0.80%

Initial community and developer grants: 0.48%

Node operators: 0.22%

Internet Computer Association: 4.26%

Team members: 18.00%

Advisors and other third-party token holders: 2.40%

DFINITY Foundation: 23.86%
Conclusion
The Internet Computer has a unique architecture that is similar to the boundless Internet as we know it today. And it is shown to be working as stated. Social media on the blockchain are already launched: check out CanCan, their decentralized version of TikTok, as well as Distrikt, a professional networking platform like Linkedin. Also, dApps on ICP include anything from DeFi to multiplayer games and even risk-intelligence providers.
On …. July/August CEX.IO listed the ICP token in pairs to USD, EUR…. 
At CEX.IO you can buy ICP instantly with a card, exchange, hold them, or trade in pairs to other currencies.
The post Limitless blockchain exists: The Internet Computer appeared first on Bitcoin & Crypto Trading Blog – CEX.IO.