Bitcoin
This week's trading is in the range of $3,800. In this range, support is tested at $3,700 and if it does not hold the next level's at $3,600. Resistance at $3,900 and from there it will be possible to test the strong resistance at $4,200.
Ethereum
Against the dollar, there is a pattern of a double top resistance in this range at $140. Support around $120 holds, and if broken will test support at $100. It seems that the Fork in the network is behind us and did not affect the price as we saw in the past.
Against Bitcoin, similar to trading against the dollar, here too a double-top pattern is seen with support around 0.033BTC and resistance at 0.035BTC.
Ripple
Against the dollar and additional approval for support around $0.30. The impact of trading in the Coinbase did not affect the graph significantly, and from the beginning of February, we can see a pattern of attempts to break the resistance around $0.35 and return to support.
Against Bitcoin, we returned to the range of support around 8000SAT. Resistance around the 9700SAT and approaching the edge of the pattern, it will be interesting to see if it will break through.
Stellar
Against the dollar, weekly chart trading at a low of 8 cents and the floor is not far at around 7 cents. Resistance in this range at 10 cents, there is a significant decline in the volatility we saw in 2018 which gives a sense of stability.
Against Bitcoin, we returned to support the March 18 level. RSI on the floor and it appears that support holds 2000 SAT. Resistance in this range at 2500SAT.
Dogecoin
Against Bitcoin, a weekly chart is trading around 50SAT not far from the floor that received 44SAT approval resistance in this range at 63SAT. The RSI is below the average in addition to the support around 200MA resistance at 50MA in this range.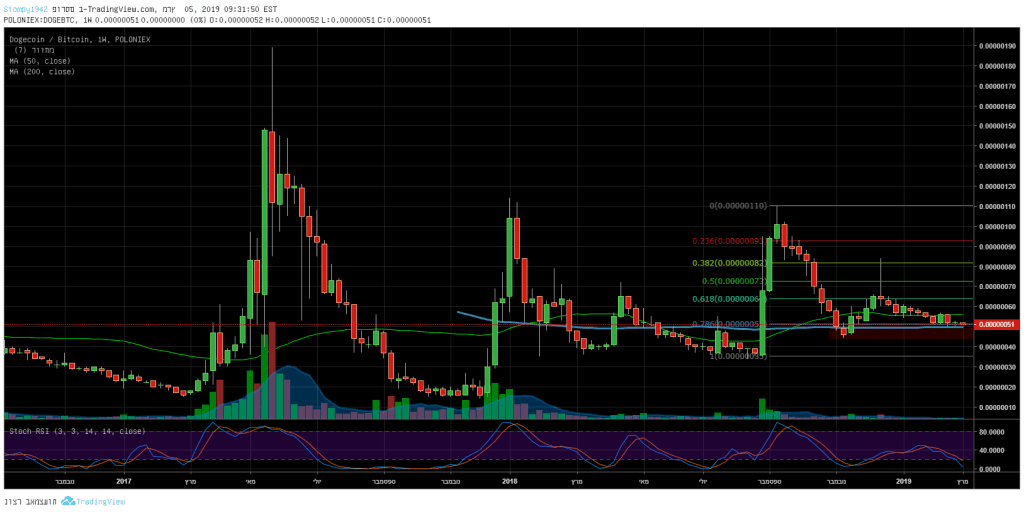 The post Crypto Price Analysis & Overview Mar.5: Bitcoin, Ethereum, Ripple, Stellar and Dogecoin appeared first on CryptoPotato.