When markets are raving about a crypto coin, you know it's time to make some trades!
We, of course, could not stand on the sidelines while getting the numerous requests from our users to give them ways to trade DOGE. The coin is risky, yet the interest is strong. So, maybe it is time to let the dogs out? 
Here's how:  
We've added DOGE on CEX.IO!
And also before, we launched DOGE/USD trading on CEX.IO Broker. 
Now,  you can trade DOGE both on spot and derivative markets within the CEX.IO ecosystem.
To celebrate this awesome event, we're launching the most meme-able crypto contest ever
. Find all the details below

.
_____________
Disclaimer:
DOGE/USD margin trading is only available in jurisdictions where CEX.IO Broker operates. This is not an offer to trade assets. Consider all risks before working with any financial instruments.  
____________
Announcing DOGE meme contest
Much wow! DOGE is now available for trading in the CEX.IO ecosystem!
Let's celebrate it DOGE-y style! And DOGE would not have existed without a good meme!
Create memes about DOGE trading with CEX.IO and win

200 USDT.
It's time to flex your creative muscles or someone else will let the DOGE

out without you
.
DOGE meme contest setup 
So what do you need to do to get 200 USDT on your account? It's simple.
Make memes related to DOGE and CEX.IO at the same time

Post them on Twitter with special text (see below! No text – no participate – no wow) 

Get as many likes and retweets as possible

Retweet our post with the DOGE meme contest announcement

Win and grab your money
Ready to start? We've already created templates for you. Enjoy!
You can create as many memes as you like.
Download the templates

here. Or create your own template! Find the requirements for contest-qualifying memes in the Rules section below.
Rules
1. Memes
Use one of the templates created by us or make your own template with respect to requirements.
Requirements for memes: 
Creatives must clearly relate to DOGE and CEX.IO  

Your meme should be unique (you can't just copy someone's meme)
2. Tweets
When you post your meme, add this caption to qualify for the Contest: 
@CEX_IO has enabled DOGE trading!
Learn more at

 https://go.cex.io/meme-contest 
#DOGECEXIO
Your meme and tweet could look something like this (don't copy this one or anyone else's memes – we're watching you
):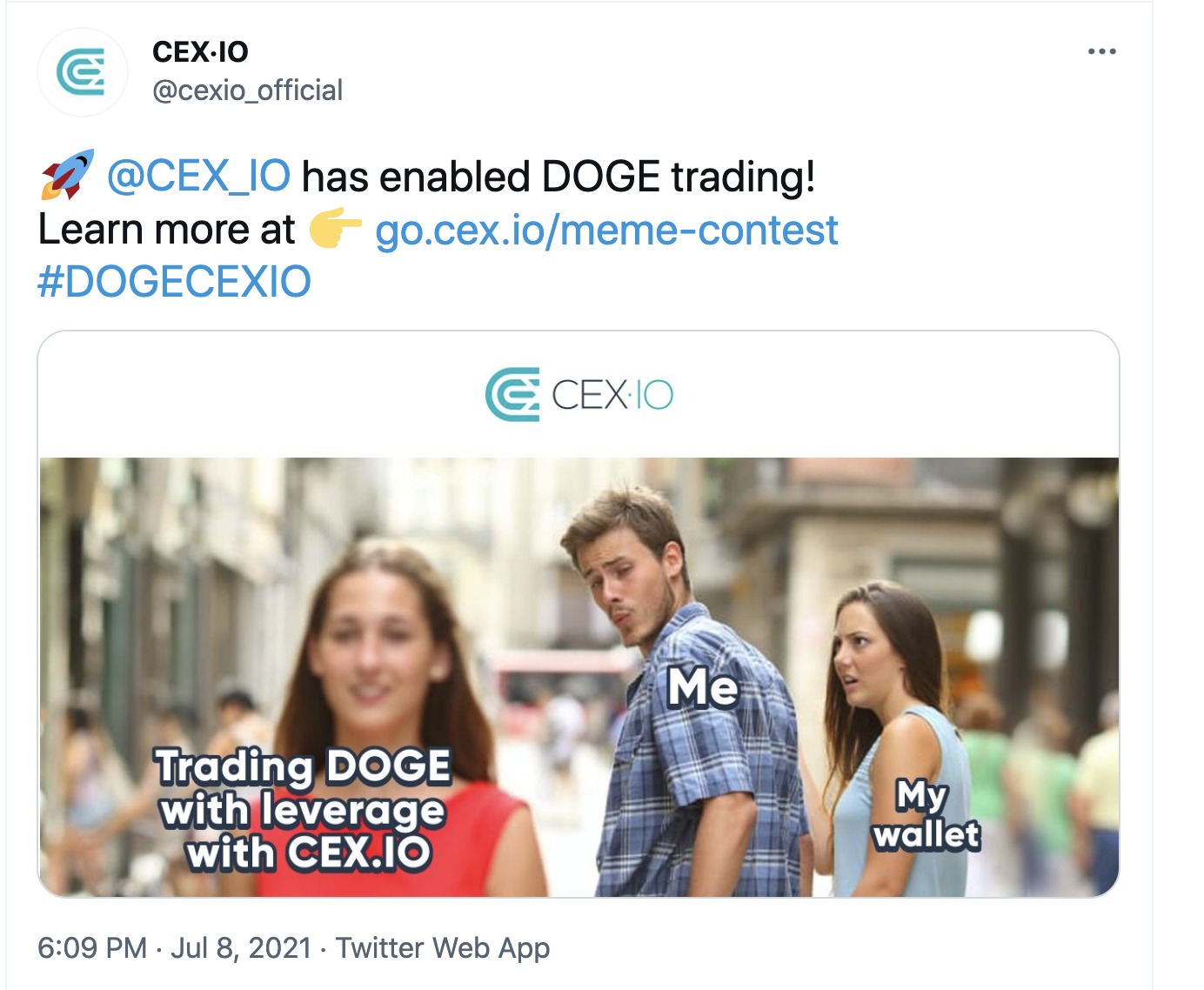 Your tweet must meet all the listed requirements, otherwise, it won't count for a reward.
Prizes
This contest has a $1,000 prize fund.
5 winners will get 200 USDT each.
Who will win – those whose memes get the greatest number of likes and retweets altogether.
Prizes will be paid in USDT and sent to your CEX.IO account within 7 business days after we announce winners. We'll do that on our Twitter page. If USDT is not supported for your account, we'll send your reward in USD.
Who can participate in the DOGE meme contest 
Customers from the countries where CEX.IO operates. The list of unsupported countries is here.
Duration
From July 8 through July 18, 2021, 23:59:59 UTC.*
*We reserve the right to change the terms and dates of the contest with the prior announcement on our blog.
We'll announce the winners on July 19, 2021, on our Twitter page. 
The post 🥳 We added DOGE to CEX.IO! appeared first on Bitcoin & Crypto Trading Blog – CEX.IO.